Hope From Harrison is committed to raising awareness, resources and Hope for children with critical medical needs.
---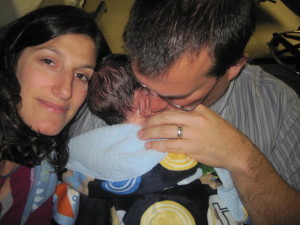 From our experience with Harrison and advocating for his needs, we learned that with even the best of public program support, most families are left in an extremely difficult, exhausting and frightening environment to care for their child with critical needs. The public systems are not designed to help everyone equally nor are they designed to help the specific needs of these families.  This often results in dangerous and harmful living conditions for these children and their caregivers.

At the time of Harrison's death, Melissa and I were solely responsible for his 24 hour medical care because we had exhausted the allotted in-home nursing care benefits through our medical insurance.  We had applied for Medicaid and were put in the typical 30-45 day waiting period for approval.  It was not logistically possible to hold down jobs and the intensive 24 hour medical care was physically and mentally exhausting.  When we were faced with making life saving decisions for our Harrison we were not able to function at even a normal level.
Hope From Harrison believes it can honor the life and memory of Harrison Everett Hudson the best and make the most significant impact in our community by addressing these "gaps" in service and provide relief, knowledge, and other specialty services tailored to individual patients and family needs.  Your support for Hope From Harrison will make a significant impact in the lives of children and families that need it most and who typically do not have the time, energy or resources to improve the existing in-home health care system.
With love and gratitude we thank you for your love and support.
Sincerely,
Matt & Melissa Hudson
Hope From Harrison