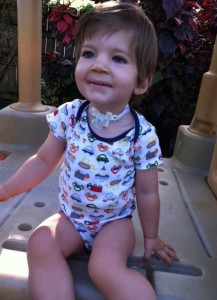 The following is from Harrison Snow's family:
Harrison was born on November 1, 2010 after a completely healthy pregnancy.  Immediately after his birth, Harrison began experiencing breathing difficulties.  After a few hours in the hospital's NICU, he was moved to a more comprehensive NICU facility, and diagnosed with a diaphragmatic hernia (CDH).  CDH is a very rare birth defect of the diaphragm that affects 1 in 2500 babies.
 
Over the next few months, Harrison underwent several surgeries.  His diaphragm was plicated, and he was also given a g-tube to ensure that he would receive adequate nutrition.  Because of his condition, Harrison would tire quickly, leaving him unable to consume enough calories to sustain his body.
 
Our family initially came home from the hospital in January, but we quickly realized that our beautiful boy was just struggling too much from a respiratory standpoint. After spending the next 2 months trying out different respiratory therapy efforts with Harrison, we determined that it would be in his best interest to receive a tracheostomy and for him to receive additional support with a ventilator. The tracheostomy ended up being a blessing in disguise for Harrison.  He immediately began progressing…rapidly. By 8 months of age, Harrison had weaned completely off of ventilatory support and he began catching up with his development at a rate that we could never have imagined.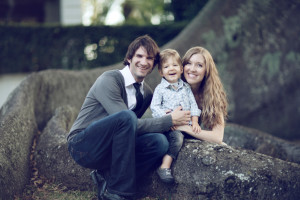 Coming home with such a medically fragile child was extremely overwhelming for our family during those early days, weeks, and months. Our home became a makeshift "hospital", and our son was so very fragile that we were terrified to leave his side. Our insurance initially covered 24 hours of nursing care for Harrison so that he could be monitored at all times. After 2 weeks, that was cut to 12 hours of coverage at night, which left only Harrison and myself at home during the day. It was impossible for me to take him to the numerous doctor's appointments and therapy sessions that he required and we were at a loss. Not only were we up to our ears with medical bills, but I was unable to return to work as planned, and we were quickly running through our savings. How could we possibly hire a nurse when our family budget had already been so drastically cut?
 
Hope From Harrison was a huge help to our family during those early, frightening, and overwhelming days and weeks at home. They threw a fundraiser for our family and were able to raise enough money so that we could hire a nurse 1 day a week for 10 weeks. I was able to schedule all of Harrison's appointments during those days and our dilemma was solved, thanks to the generous hearts and minds of those involved with 'Hope From Harrison'. By the time the money ran out, Harrison was off of his ventilator during the day and we were no longer in need of daytime help.
 
Harrison is now 4, and although he is still in need of his tracheostomy and feeding tube, he is a very typically developing toddler…temper tantrums and all! We are back on our feet as a family and we are now able to help 'Hope From Harrison' with their efforts as they continue to reach the medically needy community.
The Snow Family