Harrison,
Well buddy exactly one year ago tonight your mother and I spent our last night with you. You had been quiet and calm for the entire weekend and while we were suspicious, as we had quickly learned to live our life, we were also tired and unclear of exactly what we should do.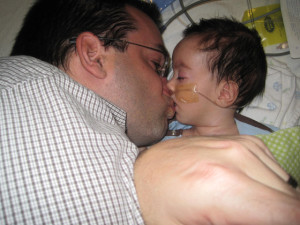 You weren't uncomfortable you just seemed to sleep for 20 hours a day which was a little strange. So we put you in our room on Monday night April 3rd, 2011 and positioned you in the middle of our bed while your mom and I watched an ESPN Films Documentary called "The Fav Five" about Chris Weber and the team at Michigan who made a run to the Final Four as freshman. You will also be interested to know that they are responsible for introducing baggy shorts into basketball in the mid 90's………..
Anyways it was a peaceful night in the bed rubbing you, loving you and more importantly just being with you. I can't help but look back sometimes and wonder if you were really okay or not. Of course the obvious questions come up of should we have done more or made a different decision that night, but to be honest with you I don't spend to much time on that because I know we did the best with what we knew and the information we had.
So here we are one year later and honestly I feel like I am starting to emerge from the fog and see and feel things that I have been numb to for this past year.
I miss you, I really do!
Over the past month or so I have been noticing that I have been allowing myself to really connect with you in ways that were to painful for me to access up until now. This year has been a blur of heartache, pain, confusion, survival, love and a little joy because that's what we do. But all in all I really don't know if I participated much in the way of life outside my responsibilities to your mom and brother.
I dove head first into "re-inventing myself' with my internet marketing company. I kind of knew this was going to be my way out of really having to feel anything this year. Just stay focused on the business at all times and I will be to busy to really feel the pain. Feel the pain that your precious mother has been tortured with.
Unfortunately, I wasn't the best listener this year because when I did listen to the pain of others it only made me angry, another feeling that I did not care to experience. So I worked, and I worked and I worked.
In all honesty I really was learning a lot and growing in that arena but in the end it was simply a cover that allowed me to check out. I always felt like as soon as I broke through the financial front and got us back on our financial feet I would take the time to connect and grieve. I always knew this wasn't the healthiest approach but like many other times in my life I just didn't really care.
So as I am reflecting on all this tonight I also realize that lately I have been feeling that my experience with you, your passing and this year of fog that I have become much less serious about life, this world, manufactured importance and many other things that used to drive me. Having been your father and shared space with you for those six months I am left with a spiritual feeling that this world and our definition of it is just not so damn important.
It's like the true beauty of this world, our life and everything we know is staring us in the face and we are so busy feeling so important and getting in our own way that we can't even see what we have. We have in our possession everything we are seeking, but we don't even know it.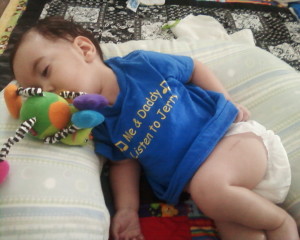 You taught me that.
Sharing space with you showed me the purest form of life, love and joy that I have ever experienced. And while this year I have refused, for the most part, to feel the pain of your loss I have definitely spent a lot of time being grateful for what you taught me.
From the moment in Galveston when I stopped looking at what you were missing and began looking at what was right with you things have never been the same. I love you as much as I can love anyone in my life and I am always proud to call you my son.
I choose to honor you by accepting you for exactly who you are. I would not change a thing b/c in my view you were born exactly who you were supposed to be and you did exactly what you were supposed to do. You had purpose and you radiated love.
So as the years continue to pass I hope I can carry on and begin to radiate the love and peace that you showed us all so eloquently. As you continue to bring Hope to the world. I am honored to be your vehicle.
I miss you and I love you,
Dad